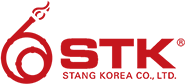 STANG KOREA Co.,Ltd ("STK") was established in 2002 and has been a leading
manufacturer and supplier of high quality Firefighting products in the Asia market.
STK`s main products are its large variety of water monitors and related equipment,
which is Deluge valve control systems, such as: water nozzles, special hydrant
manufacturing, safety shower & eye wash, fire extinguishers, hose reels, post indicate
valves, and much more.
Since 2004, STK has been a distributor of MUELLER Co. within the Asia market.
MUELLER Co has a long history of trust and leadership in the American flow
control industry, spanning more than a century. MUELLER Co is the largest full-line
supplier of flow control products used in distribution systems for municipal potable
water and natural gas. Each item is fully tested based on QA/QC parts. The quality
assurance system has been compliant with ISO 9001 standard since 2001.
STK is well recognized as a world class company, providing the products to the
market on a global basis at the most competitive price and delivery on time.